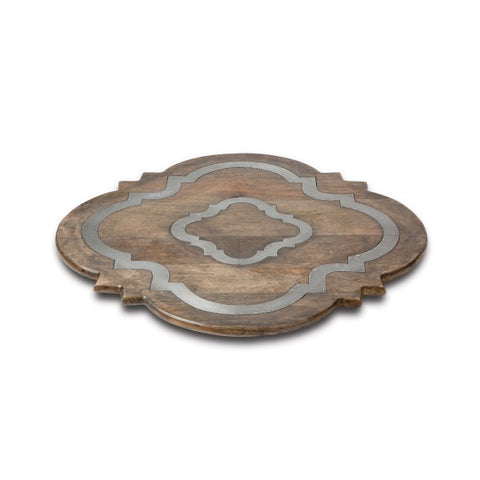 The GG Collection Gracious Goods Ogee-G Lazy Susan Heritage Collection
Wood and Metal Ogee-G Lazy Susan Heritage Collection 
The GG Collection® continues to be a trend setter, always seeking new resources. We are proud to present the Heritage Collection. All hand crafted, these pieces are made of carved mango wood tops with hand cut metal designs inlayed in place. The metal shapes are hammered and nailed to hold in place, and a food safe polyurethane coating is added for protection. The craftsmanship and artisan skills are featured on the flat surfaces, creating true works of art that can be used to entertain and add style to your home.

The mango tree reaches its full maturity at 15-20 years when it loses its ability to bear fruit. With tight grain and natural food safe qualities, this wood is also soft enough to tool and shape, making it the perfect medium to inlay our metal designs and patterns.

HERITAGE WOOD CARE
While the Heritage Collection wood pieces are mango wood, many of the pieces have a foodsafe polyurethane coating, and therefore the use of edible oil on the Heritage Collection pieces is not advised. Instead, simply wipe with a damp cloth. Due to the metal inlay creating "crevices" on the surface, it is not advised to place non-solid or "wet" food directly on the surface.